OUR MISSION
To be the day's highlight of everyone who walks through our door.
OUR CORE VALUES
We wake up each morning eager to share our PASSION.
We work all day with PURPOSE – to build inspired relationships
with our guests, our crew, and our neighbors.
We are filled with PRIDE at the end of the day
knowing we've made a difference.
Appetizing Opportunities
Take the first step of your Steak Escape franchise journey by quickly filling out the application
Contact Us
If you have any questions, fill out the form below
WHO WE ARE IN 3 BITES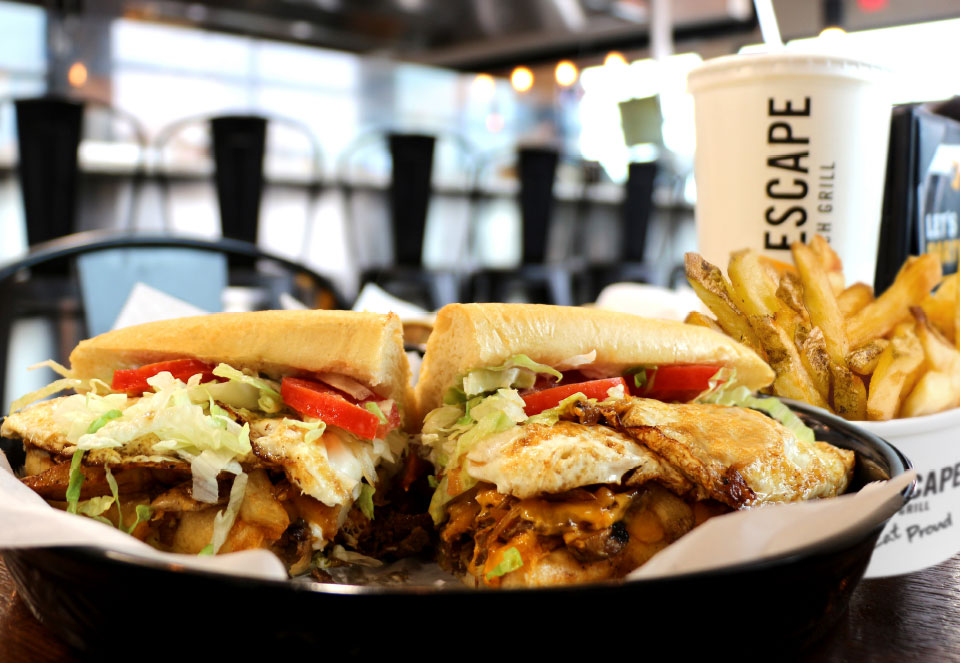 FIRST BITE
Since 1982 we've been committed to the quality of our food and the freshness of our products – so that our customers can come into our restaurants and Eat Proud. Every morning our crew chops and slices vegetables, and it doesn't stop there. We are dedicated to providing hormone free chicken and 100% USDA Choice Steak. Freshness is key, with fresh baked incredible steak rolls, fresh cut fries, and fresh squeezed lemonade. At the end of the day, we take pride knowing we have delivered awesome high-quality meals to all who come in.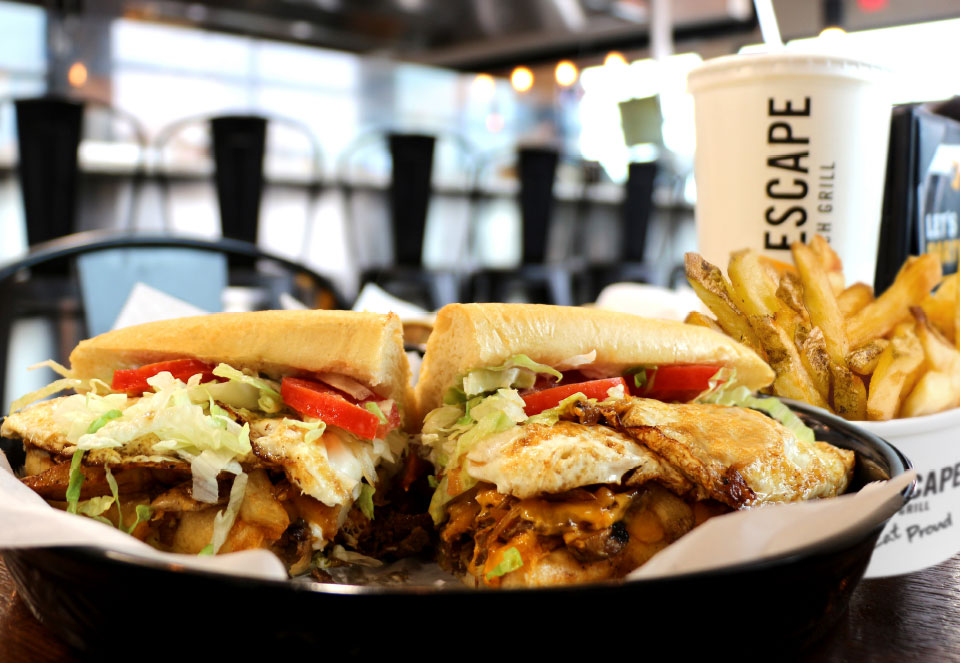 SECOND BITE
We are in the business of bringing people together and like to think of ourselves not as a cheesesteak company that serves people, but rather a people company that serves cheesesteaks. We differentiate ourselves in the marketplace by developing personal connections. Our goal isn't just to feed people, but to give them an experience – to sit back, relax, and enjoy time with family and friends. Between our crew, our guests, and our neighbors – we are creating a family one bite, one smile, and one meal at a time.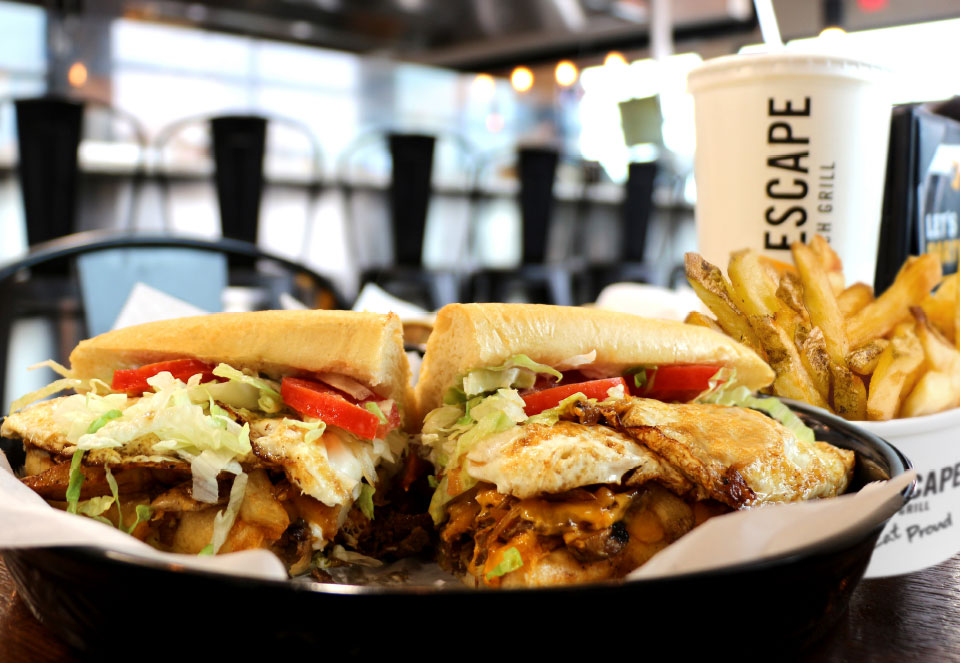 THIRD BITE
We continually work to integrate ourselves into our immediate neighborhoods in helpful, meaningful ways – building connections and contributing to the growth of our thriving communities. We are proud to create rich, rewarding, and inspiring relationships through providing free meals to those in need, collecting and matching donations for local causes, and figuring out unique and creative ways to give back.
Become a Franchisee

FRANCHISE INQUIRY
We ask that you, as a passionate potential franchise owner, fill out our franchise contact form.
After we receive your information, we will set up a call to discuss your interest and to answer any questions you may have, allowing you to decide if you're ready to move forward with this opportunity.
After our initial conversation, a Regional Franchise Sales Director will contact you to discuss options further, including your development plans. Then, we'll ask you to complete a franchise application for review by the Escape Enterprise Franchise Team.

DISCOVERY DAY
Your application will be reviewed, and if we see you as a great fit, you will be invited to our Discovery Day in order to give you the best insight into our unique and exciting culture.
At this event, you'll meet with our Senior Executive Team and learn all about the services we provide our owners, including training, marketing, real estate, construction, and ongoing support. Plus, you'll get a behind-the-scenes look at why investing in Steak Escape is the best way to earn more ROI! After Discovery Day, we will provide you with our Franchise Disclosure Document (FDD) for your review explaining details about our fast-casual franchise offering.

SIGN UP AND BECOME PART OF OUR FAMILY
Your next step it to sign the franchise agreement. Once the agreement is signed, you'll officially be part of our Steak Escape franchise family! Lastly, our highly qualified Franchise Services Team will start the exciting process of working with you to locate and finalize your site.
FAQ's
During this time of the COVID pandemic, our restaurants have been able to adjust seamlessly, whether it is offering added pick-up and delivery options for customers, to ensuring precautions are in place to keep employees healthy and safe. In addition, lease rates are going down and locations are thriving – making this the perfect time to expand!
Have any initial questions after learning more about our franchise opportunities?

Do I need any restaurant experience?
Restaurant experience is a plus. But more important is your ability to manage and teach your employees the Steak Escape culture. It will require organization, people skills, and a strong commitment to running your business.
How much is my start-up investment?
Your initial franchise fee for a single store is $25,000. Depending on location and size of your Steak Escape Sandwich Grill, the initial investment ranges from $239,500 to $816,500.
What are my financial qualifications?
We require a minimum of $200,000 in liquid assets such as cash, marketable securities, stocks, etc., along with an overall net worth of $400,000 (total assets less total liabilities).
How much are my royalty and marketing fees?
Our royalty fee is 6% of gross sales, plus 0.5% of gross sales for marketing mall locations. We encourage our mall franchisees to allocate an additional 2% for advertising in their local area. For non-mall locations, marketing fees are 1.5% of gross sales, and we encourage them to allocate an additional 3% for advertising in their local area.
How long will it take to open my location?
Every location varies depending on site selection, size of your build-out, local building codes, your contractor, etc. Typically it will take between four and eight months.
What kind of training will I receive?
As a franchisee, you will be immersed in the Steak Escape life for three weeks. One week in our corporate offices learning operations, purchasing, procedures, marketing – all the best practices for running your business. The other two weeks in one of our corporate Steak Escape Sandwich Grill locations in Columbus, OH. There you'll gain real-time experience in all aspects of day-to-day operations.
How many employees will I need to hire?
Your crew will vary depending on size and type of location of your store. However, the average Steak Escape Sandwich Grill employs 15 to 20 crew members. An average shift requires 4 to 7 employees.
---
FRANCHISE MODELS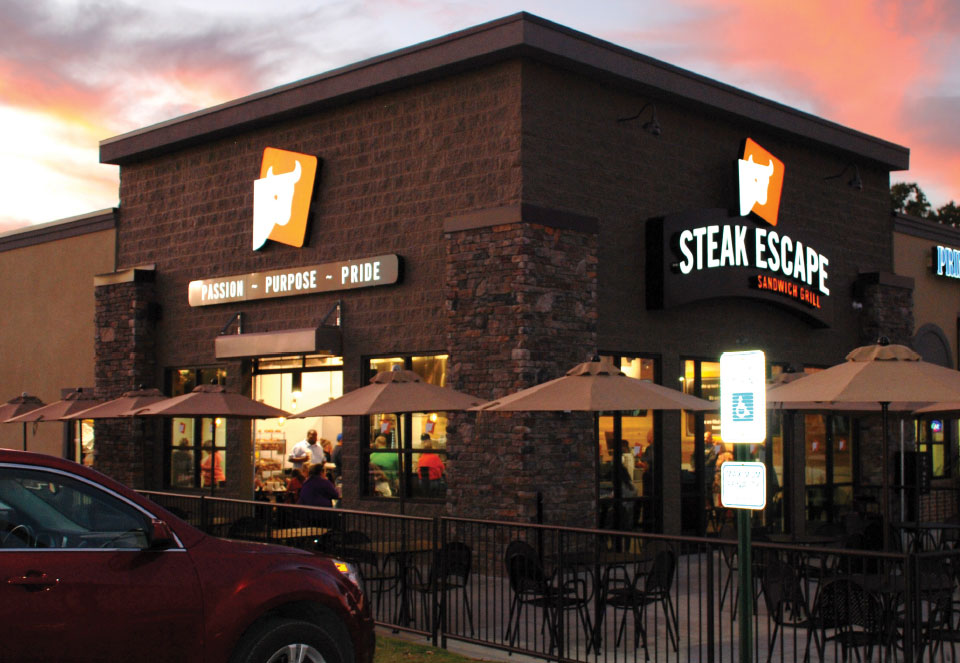 FREE-STANDING RESTAURANT
Along with a comfortable dining room and a drive-thru, franchisees benefit from the significant "street presence" that the freestanding unit offers. We are able to build from the ground up, or remodel an existing building. The option of owning the land is also always a plus.
AIRPORTS AND COLLEGES
Our brand grew up in food courts all over the country, so we have experience in providing excellent service in airport and college environments. Quick serve restaurants in airports and on college campuses benefit from a captive audience. Travelers have time to browse before and between flights and are typically looking for a more unique menu offering. College students, staff, and faculty also look for unique alternatives to ordinary or cafeteria food.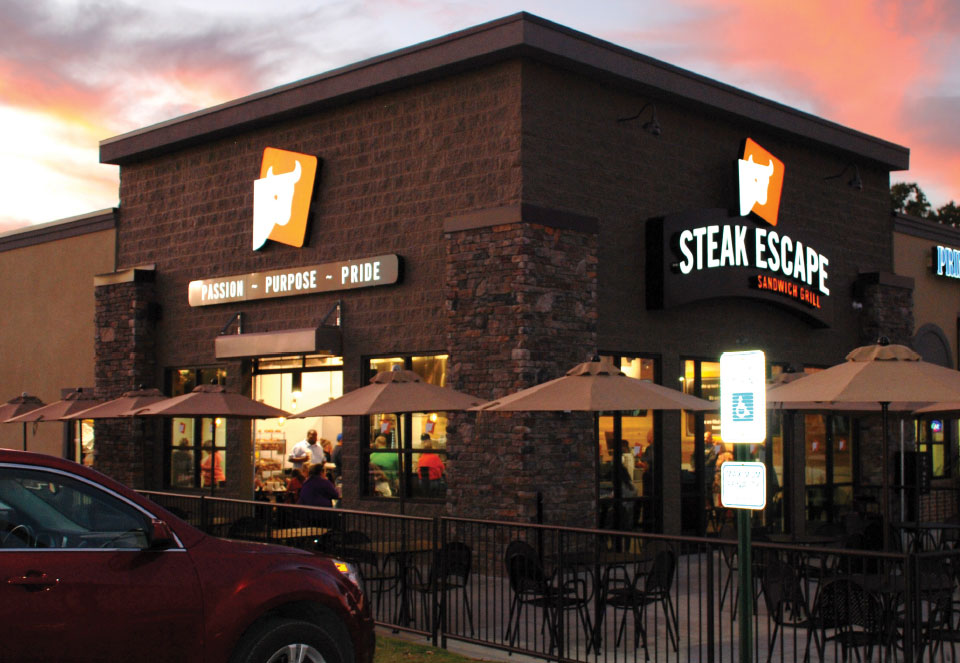 IN-LINE STRIP CENTER
Convenience is key. Customers appreciate the easy access to our restaurants located in strip centers. They feature an inviting feeling inside, but also have provisions for on-line ordering and delivery! Strip centers also see high foot traffic, being located in dense areas.
END-CAP STRIP CENTER WITH DRIVE THRU
This is where fast-casual quality and fast-paced lifestyles intersect. Drive-thru models in our end-cap locations offer the comfort of a great interior and the ease of a drive thru. About 40-50% of sales are made through the drive thru, and about 20-25% are takeout and delivery. Due to these percentages, we are able to take advantage of less square footage.