An Appetizing Opportunity
Are you ready to steak your claim to franchise fame? Find out fast if we're a perfect fit, get answers to all your sizzling questions and fire up this life-changing opportunity with Steak Escape Sandwich Grill.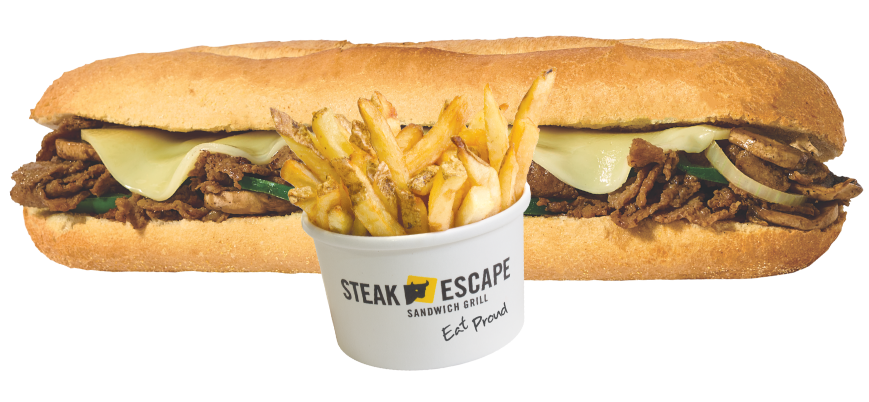 "*" indicates required fields
A people company that serves cheesesteaks, Not the other way around.
We've got something that sets us apart from other fast-casual restaurant chains. You might think it's our hormone-free chicken and USDA-certified beef. Or our always-fresh cut fries, always-fresh baked rolls and always-fresh squeezed lemonade. And you wouldn't be wrong. But where we really shine is in the way we make connections — with our guests, our crew and the communities we serve.
It's important to us that our franchisees run a successful store, sure. But it matters just as much that they put a premium on their people. On being a good neighbor, a better friend and a pillar of their community. Sound like you? We sure hope so.
"We want to be the highlight of the day
for everyone who walks through our door."

– Ken Smith, Chairman
Our Industry is Sizzlin'
The sandwich segment of the quick service restaurant (QSR) industry – much like our fresh-baked Italian rolls – is on the rise. Valued at $293 billion and counting, sandwich shops account for 12% of the total QSR industry, second only to burgers and pizza. It has experienced accelerated growth in the past few years, with no signs of slowing down.
In other words, now's the time to steak your claim.
$454.3B
projected value of the QSR industry by 2030
$293.8B
the current value of the QSR industry
5.60%
Compound Annual Growth Rate (CAGR) for 2023-2030
Choose your Escape
We offer four franchise models, each with their own particular strengths. You know your community. You know what it needs. We'll work side by side with you to determine a location that is the perfect fit for you, to best serve them.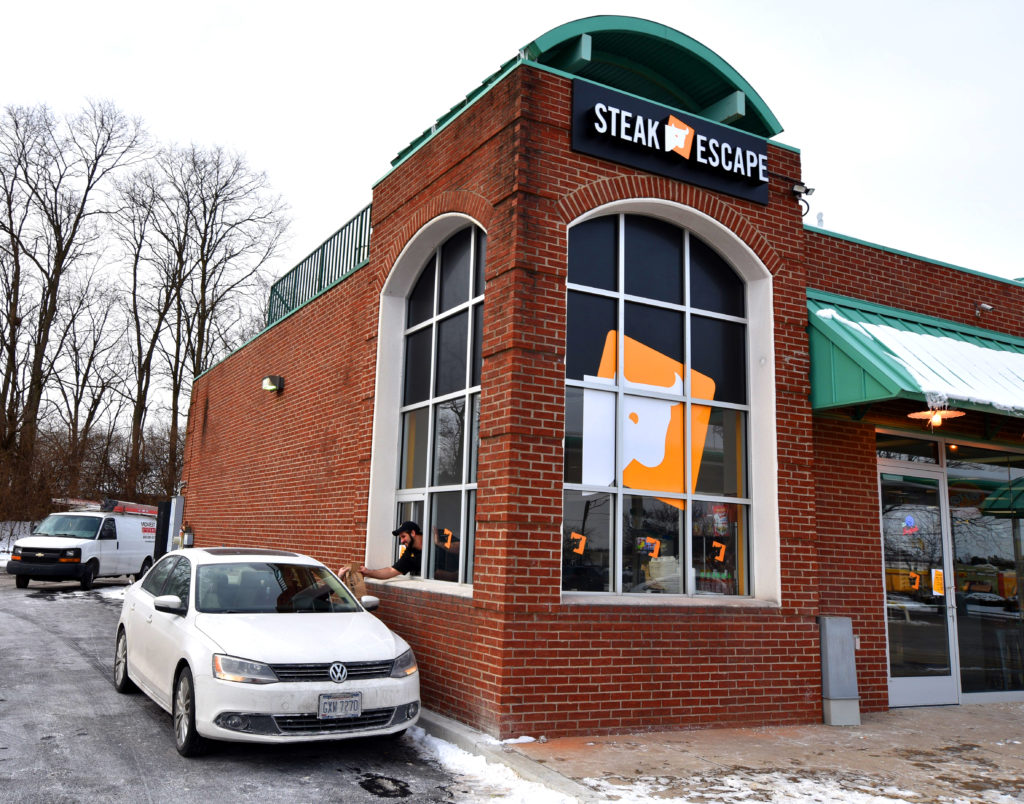 Free-Standing Restaurant
Along with a comfortable dining room and a drive-thru, franchisees benefit from the significant "street presence" that the free-standing restaurant offers. Build from the ground up or remodel an existing building, and the option of owning the land is always a plus.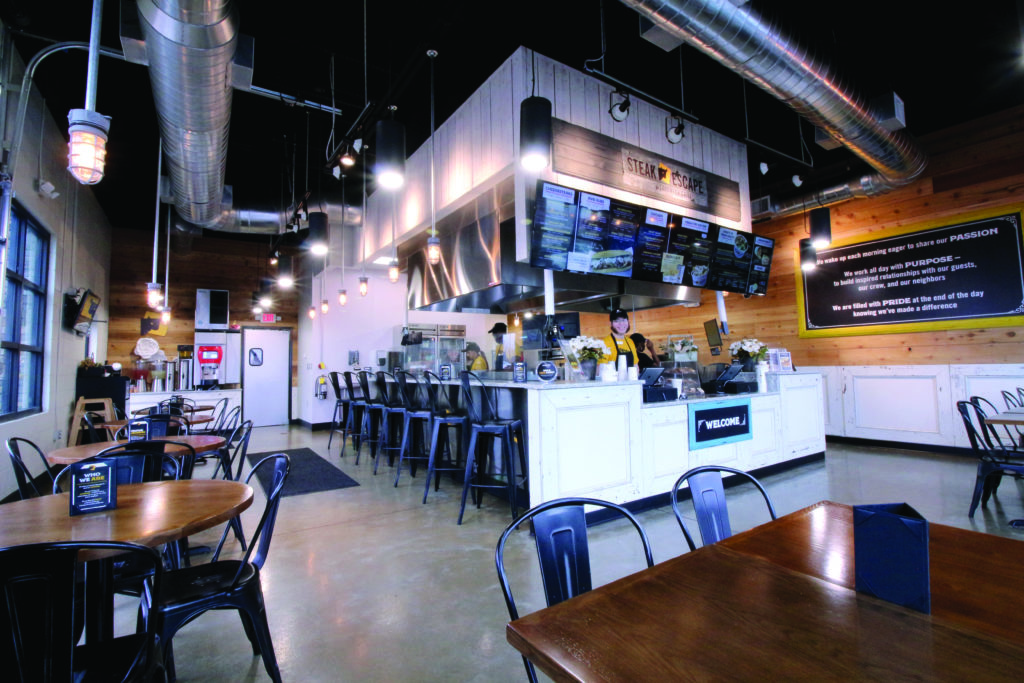 In-Line Strip Center
Strip centers also see high foot traffic, being located in dense areas. For these customers, convenience is key, and they appreciate the easy access to our strip center restaurants. Provide an inviting feeling inside, while expanding your base via on-line ordering and delivery!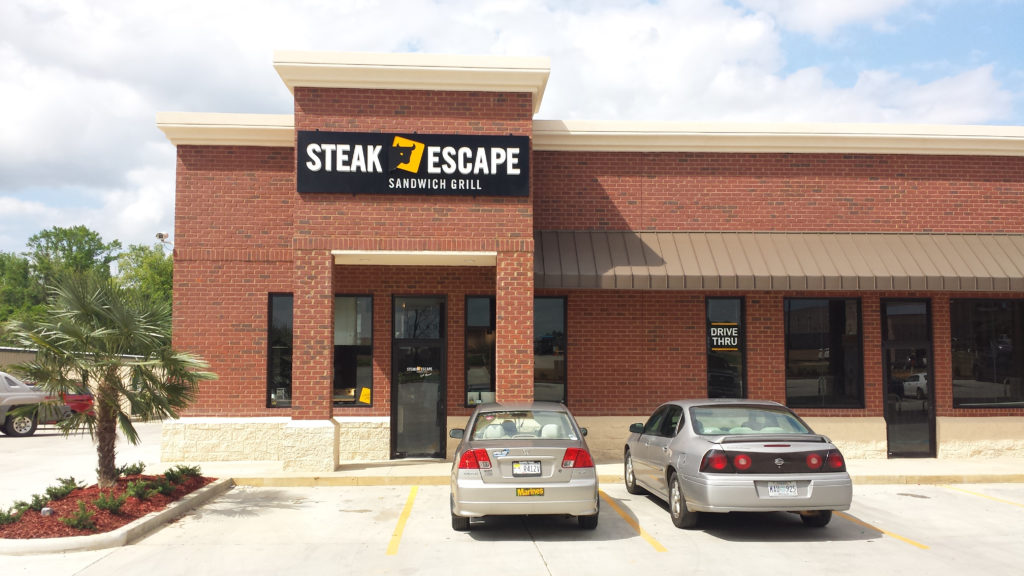 End Cap Strip Center With Drive-Thru
This is where fast-casual quality and fast-paced lifestyles intersect. Drive-thru models in our end-cap locations offer the comfort of a great interior and the ease of a drive-thru. With such a high rate of to-go orders, these locations can take advantage of a smaller footprint.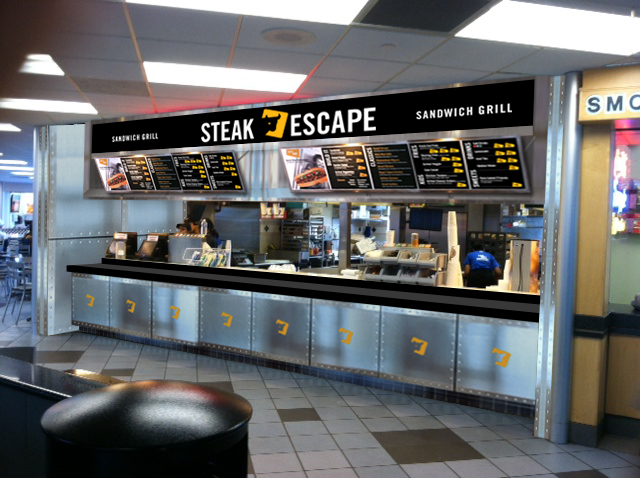 Airports And Colleges
We grew up in mall food courts across the country, so offering excellent service in airport and college environments is easy for us. Benefit from a captive audience with time to browse, and spend your days serving savvy customers looking for unique alternatives to the standard food court offerings.
MADE in MALLS.
Currently Conquering the Country.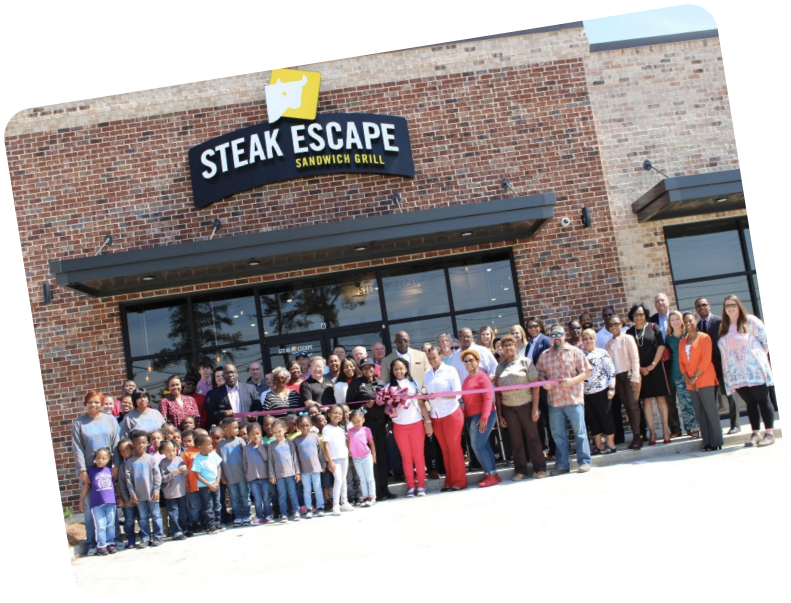 The story of Steak Escape Sandwich Grill begins in 1982. Maybe you spent some quality time with our sandwiches back then, tucked into a booth with your besties at your mall's food court. If not, you definitely missed out. Those were some great times.
We've both grown a lot since then, though. As consumer preferences have evolved, so have we. We've expanded out to strip centers, airports, colleges and free-standing restaurants with table seating and drive-thru service. And you've grown too. You've built a resume and net worth to be proud of – or perhaps you stumbled upon a winning scratch off. Whichever the case, now's the perfect time to explore owning your own franchise.
Top 5 Reasons to Start a
Steak Escape Sandwich Grill
Above and beyond the financials.
01
Personal attention
to fire up powerful
growth.
02
A proven franchise
model throughout
the nation.
03
Offer guests an escape from
the same ol' sandwich,
slice, slider.
04
Be your own boss, providing
exceptional experiences for
your crew and guests.
05
Cook fresh food, in a fun way,
with flavors your community
knows, loves and longs for.

Grade-A TraininG & Support
With Us, You're Never Prov-alone
Whether you've spent decades in the restaurant industry or are just trying on your apron, you'll get everything you need to succeed. Including the sandwich-based puns.
When you first become a franchisee, you will be immersed in the Steak Escape life for three weeks so you're prepared to hit the ground running. During these exciting weeks, you'll learn business best practices — including essential insights into operations, purchasing, procedures and marketing. You'll spend your days in one of our corporate Steak Escape Sandwich Grill locations in Columbus, OH. There you'll gain real-time, real-world experience in all aspects of day-to-day operations, grill up tasty meals for actual guests and get a feel for what it means to be a successful franchisee.
And it doesn't stop there! We will be right here with you, accessible while you run your own restaurant. Helping you succeed, our leadership team is with you to answer questions, share insights, and offer tips and tricks of our trade whenever you may need to add a bit more fuel to the fire.
Do you have the bread?
If so, you're off to a great start. Not quite there? We'd still love to connect. If you have the right mix of passion and experience; and we have that can't-lose chemistry, anything is possible.
The ideal potential franchisee will have:
Go ahead,
Grill Us.
Do I need any restaurant experience?
Restaurant experience is a plus, but more important is your ability to manage your employees and teach them the Steak Escape culture. It will require organization, people skills, and a strong commitment to running your business.
How much is my start-up investment?
Your initial franchise fee for a single store is $25,000. Depending on location and size of your Steak Escape Sandwich Grill, the initial investment ranges from $239,500 to $816,500.
What are my financial qualifications?
We require a minimum of $200,000 in liquid assets such as cash, marketable securities, stocks, etc., along with an overall net worth of $400,000 (total assets less total liabilities).
How much are my royalty and marketing fees?
Our royalty fee is 6% of gross sales, plus 0.5% of gross sales for marketing mall locations. We encourage our mall franchisees to allocate an additional 2% for advertising in their local area. For non-mall locations, marketing fees are 1.5% of gross sales, and we encourage them to allocate an additional 3% for advertising in their local area.
How long will it take to open my location?
Every location varies depending on site selection, size of your build-out, local building codes, your contractor, etc. Typically it will take between four and eight months.
What kind of training will I receive?
As a franchisee, you will be immersed in the Steak Escape life for three weeks. One week in our corporate offices learning operations, purchasing, procedures, marketing – all the best practices for running your business. The other two weeks will be spent in one of our corporate Steak Escape Sandwich Grill locations in Columbus, OH. There you'll gain real-time experience in all aspects of day-to-day operations.
How many employees will I need to hire?
Your crew will vary depending on size and type of location of your store. However, the average Steak Escape Sandwich Grill employs 15 to 20 crew members. An average shift requires 4 to 7 employees.
3 steps to
Franchise Fame
Steak Your Claim
Fill out the franchise contact form. Once we receive it, we'll reach out to introduce ourselves, explain our process and answer any questions you may have, to get you on your way to potentially owning your own Steak Escape franchise.
DiscoverY DAY
If it seems like we might be a match made in sandwich-making heaven, you'll be invited to your very own Discovery Day. There you'll learn more about our unique and exciting culture, discover the full suite of support we offer, get a peek behind-the-scenes of the inner workings of a successful franchise model and, of course, get to enjoy the great, bold flavors that are uniquely ours.
Get Grilling
Once you're ready, you'll sign the franchise agreement and join the team. We'll turn loose our highly-trained Franchise Services Team to get started selecting your site and creating your very own Steak Escape Sandwich Grill.
READY TO MAKE YOUR ESCAPE?