Delivery Now Available
Available at select locations only. Please check for delivery availabilty.
COVID-19 (CORONAVIRUS) INFORMATION
In order to keep our guests, employees, and communities safe and healthy during the spread of the Coronavirus (COVID-19), management at Steak Escape are actively monitoring national and local updates as they come in. At this time, we will also be expanding our efforts to make all of our locations as safe as possible.
You may be experiencing that some of our locations' dining rooms are closed. These locations are STILL OPEN for online ordering, drive-thru and call ahead ordering for pick-up.
We are sanitizing all tables, chairs, condiment stands, and trash containers at a more frequent schedule
All door handles, inside and outside, are being sanitized throughout the day
All staff are following extra hand washing protocols, and using gloves for all food handling (as we already do)
We are offering hand sanitizer or disinfecting wipes to all guests during their visits
More space has been added between tables, as to comply with current recommendations
We continue to sanitize our entire kitchen, equipment, and serving utensils. Rest assured this process occurs throughout each day. We have added an extra nighttime sanitization protocol
If you are feeling unwell or are practicing social distancing at this time and wish to order, some of our locations offer delivery. Please visit the Locations tab on our website to see if your local Steak Escape can deliver to you!
Thank you,
Steak Escape

Our Mission
To be the day's highlight of everyone who walks through our door.
This is Who We Are
We wake up each morning eager to share our PASSION.
We work all day with PURPOSE – to build inspired relationships
with our guests, our crew, and our neighbors.
We are filled with PRIDE at the end of the day
knowing we've made a difference.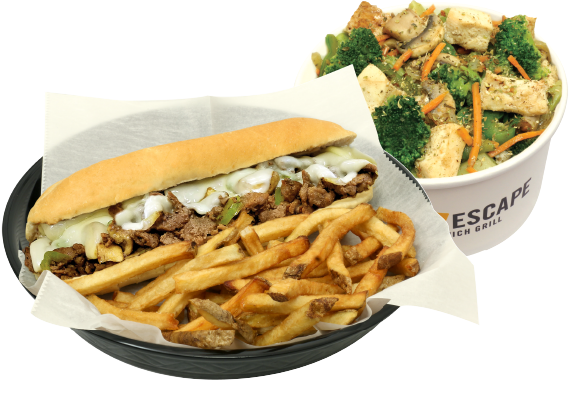 The Next Generation
Imagine fresh food grilled in front of you. A mouthwatering sandwich. A relaxing yet modern space. Now open your eyes. There's no need to imagine it. We've already mastered it. This is our world.